Which bra is right for you? The SCHIESSER bra consultant will tell you
For many women, their bra is a daily companion. That's why it's all the more important for your bra to fit perfectly and to support your breasts to the best of its ability. No other piece of clothing has as much influence on whether a woman feels comfortable or not. That's why it's so important to us to be able to offer you the perfect bra or bustier. But buying a bra without on-site advice? With the SCHIESSER bra guide you can easily determine your perfect fit online, find out about the different bra types and order your perfect bra directly from our online store.
The first step to a comfortable bra is choosing the right size. For optimal support, cups and underbust band should be neither too big nor too small. Your ideal bra size depends on two dimensions. You can easily measure these on your own. All you need is a tape measure to measure your chest and underbust size. To measure, it's best to stand in front of a mirror and make sure that the measuring tape lies flat against your skin and doesn't twist when you're wrapping it around you. It should also not cut into the body when you're measuring. So try holding it loosely and measure your chest size and underbust width.
You can now read which bra size you are based on your measurements using our size chart below. Or you can simply enter the determined values in the fields below on your computer. Our bra consultant will then automatically calculate the best bra size for you.
Like it's made for me:
Bras that fit me.
80B or 75C? When determining your bra size, two measurements are crucial.
You can easily measure both yourself – with or without help. Please pay attention to the following:
Chest size
Lay the measuring tape
horizontally at the largest
part of the breast around the body.
Underbust measurement
Measure directly underneath
your breasts, ensuring that the
measuring tape is not too tight.
Check your bra size by comparing your readings with our size chart.
And now you're one step closer to having found the right one.
Chest size
Underbust
measurement
Sizes
Cup A
Cup B
Cup C
Cup D
Cup E
63 — 67
65
77 — 78
79 — 80
81 — 82
83 — 84
85 — 87
68 — 72
70
82 — 83
84 — 85
86 — 87
88 — 89
90 — 92
73 — 77
75
87 — 88
89 — 90
91 — 92
93 — 94
95 — 97
78 — 82
80
92 — 93
94 — 95
96 — 97
98 — 99
100 — 102
83 — 87
85
97 — 98
99 — 100
101 — 102
103 — 104
105 — 107
88 — 92
90
102 — 103
104 — 105
106 — 107
108 — 109
110 — 112
The most important measurement for finding a perfectly fitting bra: your comfort
The next step on the way to comfortably wearing your bra is finding an optimal fit for your support garment.
"How can I find a comfortable bra?" is a question you'll never have to ask yourself in the future. With our assistance, you can easily become your own bra consultant! In the following pictures you can see a perfectly fitting bra and what you should avoid when looking for a properly fitting bra.
The cups are too small, the underbust band is pushed away from the rib cage.

The cups are too small and pin into the breast.
The cups are too big and stand up or form folds.
Your bra should sit at the same height along the back and front; it should not slip when worn nor should it pin or press at any point. It's important that the breast has the best possible hold.
The straps are too loose and slip off the shoulder.
The straps are set too short and cut into your skin.
The back pulls up and does not provide a good hold.
Perfection through cross sizes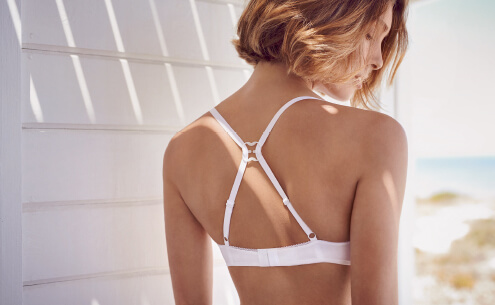 A small difference compared to your standard sizes. And a big one in comfort.
The size is right, but the fit of the bra not so much? If that's the case, try cross sizes. These can help if the cups are the wrong size or the underband is too tight or too wide.
To ensure full comfort: put on the bra properly
So that your bra not only feels good. But really good.
Putting the bra on improperly can also prevent you from enjoying full comfort. As such, here you'll find an overview that includes the three most important points that you should take into account when looking for a properly fitting bra.
If you keep these points in mind, it will be easy for you to find the right fit for your bra.
Always fasten new bras using the middle row of hooks.
Place your breast in the cup so that it's perfectly surrounded.

Adjust the straps individually until they rest comfortably.
What makes long-lasting relationships?
The right level of care.
Our bra consultant has a few tips on how to care for your bras:
Washing
Wash bras with bra bones, underwire and cup bras with mild liquid detergent by hand. Underwire and cupless bras can be washed in the washing machine with liquid mild detergent (delicate program with low spin rate, maximum 30°). Fasten bra and use mesh bag.
Drying
Always hang to dry – never use the dryer.
Storing
Do not invert or fold the cups, but place them one behind the other by gently turning the connector crosswise. Store in the drawer with socks, for example.
As a rule, please always observe the wash and care instructions on the product.
The right bra for any occasion
Bras come in a wide variety of styles and designs. What are the differences between the bras? Which one is particularly good for small breasts? Which one offers the best support for a large bust size? In short: which bra for which breast? In order to help you keep track of all the different kinds and to perfectly round off our online bra advice, we've made a summary of all the various benefits of each bra type for you in a practical bra finder. Simply select the type of bra you're interested in. Our online shop allows you to easily order any kind of bra and get your new feel-good bra delivered directly to your home.